Jewellery commissions in silver and gold
Handmade, bespoke jewellery & gifts for weddings, civil partnerships, Christenings, anniversaries & ceremonial events
Working from my studio in Sheffield, I specialise in the bespoke creation of jewellery and other precious objects for weddings, civil partnerships, birthdays, anniversaries & other special moments. If you are looking for something unique, personal to you and very special, I will be delighted to design and make to your requirements.
I work with clients to create beautiful, individual jewellery for special occasions, often combining different coloured golds, and sometimes including silver.
As a designer-maker, it's important to me that I use the things that inspire me in my work. For me, I tend to draw patterns, forms and themes from the natural world – often simple things that are all around us but easily overlooked. When creating something special for you, not only do I want to share my own influences, but it's also important that we discover things that have meaning for you, and to use these to create truly personal objects of desire.
Each item is hand made, and may involve experimentation to achieve a particular texture or effect.
Sunflower ring with white & red Gold
Sunflower ring in Argentium silver with white and red 9 carat gold, a 21st birthday present for Cassie from her grandparents.
Poppy Ring in 18 carat Gold
This 18 carat gold ring was a 40th birthday gift from Steve to his wife, whose nickname is Poppy. The band is white gold, and the poppies are red gold.
Fern Ring in Yellow & White Gold
This ring, in 9 carat yellow and white gold, was commissioned by Bex, in memory of her husband, and contains gold from their wedding and engagement rings. The unfurling fern fronds symbolise rebirth and new life, and there is a secret message hidden in the texturing.
Argentium Silver and 18ct Yellow Gold necklace
Crab apple blossom necklace in Argentium silver, with 18 carat yellow gold details. Exhibition piece for Peak District Artisans at Art Out Loud, Chatsworth House, September 2016. Now held in a private collection.
Argentium Silver Commitment Rings Commission
Argentium silver rings with Rockhammer texture, including poetry, chosen by Rob and Paula, chased onto the surface.
Assay Office Jewellery Commission
In 2014, Sheffield Assay Office commissioned Annette to make the dog rose necklace,  the first piece to be hallmarked at the new Sheffield Milan Assay Office. The necklace is now part of the Permanent Collection in Sheffield.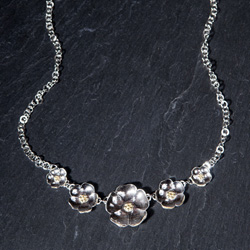 Leaping trout silver serviette clip
I was asked by Martin and Elaine Howell, Master and Mistress Cutler 2008-2009, to make a silver serviette clip for Martin to wear at official dinners. I based the design on his interest in fly fishing, and chased a leaping trout to form the clip, with the Sheffield hallmark lasered onto the back. I also made Martin some silver waistcoat buttons.
Pearl and gold earrings
These earrings were made to celebrate the 45th wedding anniversary of Ann and Peter, and include pearls that belonged to Ann's mother. The 9 carat gold buds are opening to show the pearls enclosed inside; they are suspended so they move individually and catch the light.
Christening silver spoon commission
This was a christening present for a little boy. The small silver spoon has three ivy leaves chased on to the top of the handle.
Gold and silver bespoke wedding rings
These rings were made for Matt and Jaye, and include gold from Matt's grandmother's wedding ring. Part of the silver is reticulated to look like rock, to reflect the couple's interest in rock climbing.
Silver and red gold necklace commission
The inspiration for the necklace was bark from a tree with special significance for Carolyn. The chain is hand made from 7 metres of red gold wire, and the small 'bark' pieces are chased and formed in layers of silver and red gold.
White and yellow gold ivy leaf ring
This ring was commissioned for Sarah's 30th birthday by her parents. The ivy leaves are chased in 9 carat white gold, and soldered around the 9 carat yellow gold ring.
Heart wedding rings commission
These rings in 18 carat white and red gold were made for the wedding of Claire and Sandra.